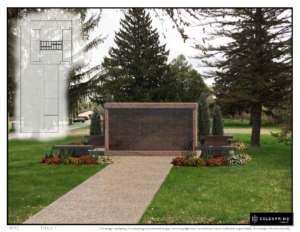 Proposal
As our church cemetery and the adjacent Evergreen cemetery are close to full capacity, the cemetery committee and the church council are proposing the building of a columbarium on our church property.  A columbarium is a permanent structure which holds the ash remains of a deceased person in separated niches. With the rise of families choosing cremation for their loved ones, the building of a columbarium would greatly help to serve the future of our church families and the surrounding community.
Introductory Offer
We would offer to our congregation only a pre-construction price of $1000.00 for a single niche and $1500.00 for a double niche, which will include the bronze plaque for a limited time only. After which time, the price will increase to a competitive rate. (At this time, most columbarium niches are selling for $1800.00 to $2500.00 for a single niche).
If you are interested in purchased a niche in the proposed columbarium and would like to take advantage of the pre-construction price, please let one of the committee members know.  It is imperative for us to know how many people are interested in this columbarium project, so we can determine how to proceed.
The Cemetery Committee: Al Bataglia, Neil Clymber, Mel Colburn, Karen Tangen