What is Confirmation All About at Memorial?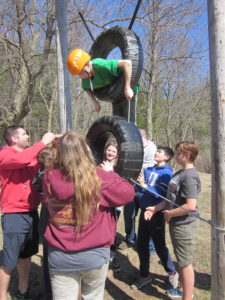 Confirmation classes at Memorial are varied and engaging. We use this as a time for youth to consider and explore their faith. While we spend a good deal of time on catechism and biblical literacy, we spend a large amount of time on big questions of faith and how God is at work in the lives of these youth and through these youth. Confirmation is in many ways all about helping these youth say from their hearts in their own words, "I am glad I was baptized, and I trust in and accept the gift of life offered through Christ's sacrifice on the cross."
At the end of confirmation, youth are given the opportunity to write a statement of faith. This is not a test, but is a way for youth to share where their faith is at the completion of confirmation classes. We have had many creative statements that expand beyond essays, including musical statements.
Finally, youth are invited to affirm their baptism. joyfully accepting the gift they have already received through baptism and joining in the adult membership of the church.
When is Confirmation at Memorial?
Typically, youth begin confirmation in the fall of 7th grade. Our confirmation ministry completes in two years (following Affirmation, youth are invited to participate in our Sr. High ministry). Youth are welcome to join at any age after reaching 7th grade.
Classes take place on Sunday mornings at 10:30 am, during our education hour. During Lent, youth are also asked to attend Wednesday nights for mentors and Lenten worship.
Our classroom confirmation year runs from September through May, with various additional offerings in the summer.
If you/your youth would like to join in our confirmation ministry, or you know someone who is searching, please contact Nick , or the church office at (651)436-1138.
In addition to preparation for Affirmation of Baptism, Confirmation also presents great opportunities for youth.
Each Sunday we meet together to share our week, and engage in the weekly lesson.
Lenten mentors allow youth to connect with caring adults and build lasting relationships that uplift their faith.
Each spring we take a youth retreat, with a special component just for confirmands.
We participate in Moonlight Madness, a metro-wide overnight for confirmation youth. It is a time of fellowship and relationship.
Participation in the stewardship of the church, as acolytes, readers, and communion assistants. Youth are also encouraged to help with special times of worship.
Service opportunities abound for youth in our confirmation ministry, including: Feed My Starving Children, Sandwich Project Minnesota, In-Reach, senior visits, Mobile Action Ministry, 30-hr famine, etc.
Summer mission trip and camp opportunities that engage youth with people and experiences outside their everyday lives.
Various other events and opportunities that arise throughout the year.
Please  visit the Events page for more info about upcoming events.