Staff
Pastor
Pastor Elizabeth is originally from the northwest corner of Minnesota and studied music (piano/voice) and religion at Concordia College in Moorhead, MN. After college she moved to the Pacific Northwest to work full time in music ministry and there she developed her love for the mountains and working with people in the church! Elizabeth attended Luther Seminary and received her Master of Divinity in 2012. She has served as village musician and pastor at Holden Village, Chelan Washington and associate pastor at Westwood Lutheran church in St. Louis Park, MN. Elizabeth is blessed to travel through this life with her daughter, Micaela!
Administrative Minister
Hi. My name is Nancy and I am Memorial Lutheran Church's Administrative Assistant. I am the person who will answer your telephone calls and greet you when you come into the church office. I compose the weekly church bulletins and also the "Memorial's News and Views," our monthly newsletter. I also work at coordinating volunteers.I have been a member of Memorial Lutheran Church since 3rd grade, attended Sunday School, was confirmed and married at Memorial Lutheran. I have 2 terrific daughters. I am also the proud grandmother of a granddaughter and also a set of twins (girl & boy) which keeps me busy, but I love every minute of it!
Minister of Faith Formation
Hi! My name is Nicholas Bannon. I was excited to begin my call as director of faith formation here at Memorial in September of 2010. My wife, Katie, and I joined as members and were married here in March 2011.Whether in the context of peer ministry, camp counseling, mission work, college, seminary, urban ministry, suburban ministry , and a growing amount of rural interaction; I have found God gracious to provide me opportunities to work with youth and children. Each new experience continues to shape my faith and how I approach ministry with children and youth.I am blessed to serve here with the youth, children and families, as we witness the Spirit of Christ taking root and continuing to grow in each others' lives.
Music Minister
Greetings! I am Lynn Dewall; Music Minister at Memorial Lutheran Church. I have taught, performed and been immersed in music my entire life. I have been involved specifically with church choirs, instrumentalists and ensembles for over 30 years. It is my pleasure to be at Memorial and enhancing worship through God's gift of music.
Minister of Finance
I have been a member of Memorial with my wife, Sarah, since 1999. We have thoroughly enjoyed getting to know the people and programs Memorial has available to its members. My son and daughter love going to Sunday School and taking part in the numerous children's activities. We feel very fortunate and blessed to call Memorial our church home.If you have a question about your giving statement, offering envelopes or other bookkeeping questions, let me know. I'd be happy to assist you!
Nursery
I work in the Nursery here at Memorial. I really enjoy spending time with kids and have many years of experience working with children as a Paraprofessional for the school district. It is such a blessing to watch and spend time with the children from the congregation. To play, laugh, and share God's word together!
Church Council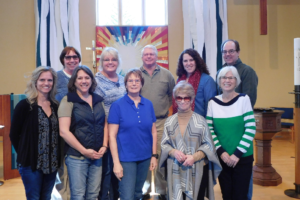 Vice President/Staff Support