Our 9:30 am Sunday morning services are classical and contemporary, participatory and liturgical, biblically grounded and musically rich. Come as you are and sit wherever you would like.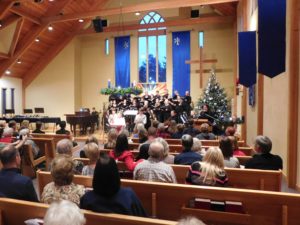 When you arrive on a Sunday morning, we've got greeters right inside the door to welcome you, and to answer any immediate questions you might have. Coffee and tea are available before worship in the fellowship hall (to the left when you enter the church). Didn't get a chance to finish your cup? That's OK, bring it with you to worship.
When you enter the sanctuary (to the right when you enter the church), ushers will be waiting to greet you and provide our worship bulletins. If you would like an activity bag for any child(ren), please ask the ushers. The ushers can also providing hearing assistants as needed–simply ask.
We use the Evangelical Lutheran Worship hymnal for our order of service and hymns. Page numbers are printed in your bulletin. Occasionally, we will use a different order of service. On those Sundays, it will be given to you along with your bulletin. In the pews you will also find pew Bibles if you would like to look up the readings, though our readings are printed in your bulletins.
During worship, we offer a children's time (children's sermon), at which time children may also pick up a children's bulletin from the front of the sanctuary.
Communion is celebrated each Sunday, and we welcome all believers to participate.
Following worship, we have a number of opportunities you can participate in. There is fellowship time in the fellowship hall each week, and our education hour runs from 10:45-11:30 am. For information about education hour, please see the education menu options.
Free nursery services for young children are provided beginning at 9:15 am each Sunday and lasting through our education hour. The nursery is located downstairs, just below the sanctuary, allowing easy access for any parents that might need to check on, or drop off, children during the service. We also have a separate room in the rear of the sanctuary that provides a place for parents to take children who might need a slight break from service, or just need to move around for a little bit.