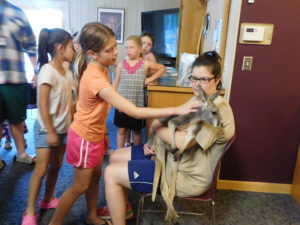 What's Sunday School About at Memorial?
Here at Memorial, we seek for our Sunday School ministry to be engaging and fun, while still emphasizing the biblical narrative that supports and nurtures faith. We have weekly classes for all children Preschool-6th grade.
Class begins at 10:45 and runs until 11:30 each week.
The learning doesn't end when the kids leave on Sunday mornings. The children's weekly leaflet from class encourages the entire family to engage faith outside of worship.
Our Sunday School weekly lessons follow the revised common lectionary, so parents and kids leave each Sunday with the same topics fresh in their minds. All of this is geared towards creating points of contact in which families can grow in faith together.
We utilize the Whirl curriculum for our weekly lessons. It provides various activities each week that make kids examine the stories in different ways. Activities can range from listening, to drawing, to acting out specific scenes.
Additionally, as children get older, the curriculum leads children to connect what they are learning to their everyday lives.
Children will also have the chance to sing on a weekly basis, and our Sunday School kids sing in worship once a month. For children in grades 1-6, we also have a
---
Interested in signing up your children to participate?
Registration is handled online, here. Our church ID is: memoriallutheran.
Even if you do not sign up, all children are welcome to participate in Sunday School at Memorial.
We have a number of additional activities for kids and families throughout the year. Please visit our events calendar and milestones pages for more info about those opportunities.
If you would like a copy of this year's Sunday School calendar, please contact Nick.
All children are also invited to come forward for children's time during worship each Sunday.